A Swiss-American Tradition Since 1910
Willkommen (Welcome) to New Glarus Bakery!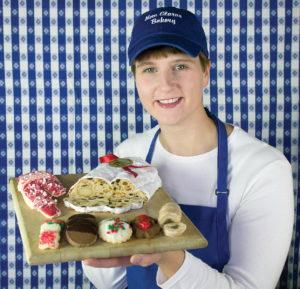 We are located in southern Wisconsin and have been delighting customers with our Swiss and American pastries since 1910. Under Angela's ownership since 2004, we have proudly continued the tradition of crafting authentic pastries that have become beloved favorites.
At New Glarus Bakery, we take great pride in using Old World recipes and the highest quality ingredients. This dedication ensures that each and every one of our breads, pastries, cookies, and specialty desserts is truly one-of-a-kind. From the moment you take a bite, you'll experience the flavors and textures that have made our treats famous.
To make our bakery accessible to all, we offer fresh nationwide shipping. No matter where you are, you can treat yourself or surprise loved ones with the indulgence of our freshly baked goods. It's the perfect way to take a break from the demands of the modern world and enjoy a delicacy straight from America's Little Switzerland.
When you step into our bakery, you'll be greeted by the comforting aroma of freshly baked goods. Every item we offer is carefully handcrafted with attention to detail, ensuring that you'll taste the warmth and nostalgia in every bite. It's a place where our passion for baking shines through, creating a sense of joy and happiness.
Whether you're craving a traditional Swiss treat or a classic American pastry, New Glarus Bakery is the destination for you. Our wide range of goodies celebrates the artistry of baking while delivering exceptional taste and quality. We invite you to indulge in our delightful creations and experience the craftsmanship that has made us a cherished bakery for over a century.
Thank you for considering New Glarus Bakery for your pastry needs. If you'd like to learn more about the captivating town of New Glarus, Wisconsin, which inspired our name, we invite you to explore its wonders. We look forward to serving you and providing you with a delightful taste of our heritage.
The Timeline of New Glarus Bakery
New Glarus Bakery first opens its doors in the heart of Green County in Southern Wisconsin, beginning a heritage of making the finest of Swiss and American pastries.
New Glarus Bakery offers its products for purchase and nationwide shipping from newglarusbakery.com
New Glarus Bakery continues operating under new ownership, continuing the time-honored tradition of quality baked goods.
The owners of New Glarus Bakery celebrate 10 years of ownership with a party with music, free t-shirts, and cake samples.
New Glarus Bakery expands its eCommerce (online) operations by offering auto-ship goodies to hungry tummies and sweet tooth across the US.